Deze parenteel vraagt enige aandacht daar die gelinkt is met parenteel Martin Weissmann : Bavaria.
Thomas Wiseman, zoon van Abraham Wiseman en Maria Susannah Hite, getrouwd met Christena Wisman, dochter van Johann Sebastian Wiesmann en Maria Catharina Fusner uit parenteel Martin Weissmann : Bavaria.

William Edward Wiseman (zoon van Isaac Wiseman en Mary (Marsy) Marshall), getrouwd met Sadie Brown, Mary Davenport en Lydia Bedforden heeft op 05-09-2016 een update gekregen waaruit blijkt dat hij geen 10 maar 19 kinderen heeft. In de daarop volgende generatie's komt het voor dat in de vrouwelijke-lijn een kind/kleinkind met een Wiseman uit dezelfde tak trouwt.

Zoals geheel hierboven beschreven, is deze parenteel gekoppeld aan Martin Weissmann : Bavaria. Dit is de enigste koppeling met een Weissmann van het Europese vaste land. Aangezien deze parenteel zijn oorsprong toch in Engeland ligt en het vervolg naar de USA, wordt deze parenteel niet meer geüpdate mits er aanwijzingen richting een Weissmann zijn, op welke manier ook geschreven.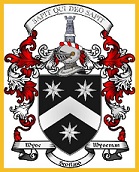 Oorsprong van de Wiseman parenteel begint, tot op heden, in het graafschap Essex aan de Oostkust van Engeland.

De wapenschild van Wyse - Wyseman is uit de Schotse deel van Engeland. Zie de link of mirror.

Een groep van onderzoeker is de schrijfwijze van de naam aan het onderzoeken, zoals: Wijze , Wyse , Wiseman , Wyseman , Weiss, Weissman families en varianten hierop.
Zie de link of mirror.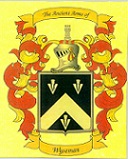 Al zoekende op internet is ook de volgende site te vonden waar wederom een Schotse wapenschild te vinden is. Zie de link of mirror.

Het is niet zeker of de wapenschilden aan deze parenteel gekoppeld kan/mag worden.